April 27, 2010
Release after 1 PM, April 28 (5:00AM, April 29, Japan time)
Five members of "The Ventures," Don Wilson, Nokie Edwards, Gerry McGee, Bob Spalding and Leon Taylor, have been decorated with a medal by His Majesty the Emperor of Japan on this day of April 29th, 2010 (Japan time).
The members received The Order of the Rising Sun, Gold Rays with Rosette in recognition of their contribution to the development and enrichment of music culture in Japan, as well as to the promotion of cordial relations between Japan and the United States.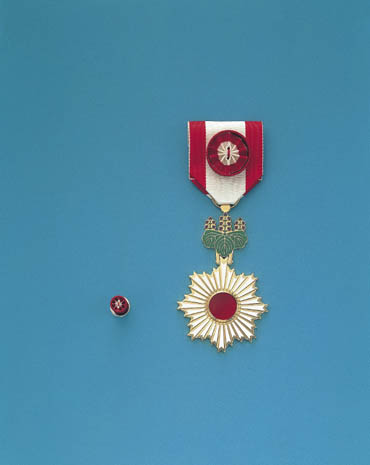 Tacoma's young guitar duo, Don Wilson and late Bob Bogle, formed the nucleus of The Ventures in 1958. In 1960, the band forever changed the sound of rock and roll with their legendary instrumental hit, "Walk, Don't Run". Having sold over 100 million records, The Ventures have had an enduring impact on the development of music worldwide.
The Ventures visited Japan for the first time in 1962 as an opening act, and by the time they returned the second time, Japanese fans had become captivated by the group's energetic guitar-driven sound. Since then, The Ventures have toured Japan almost every year, for a total of some 2,400 performances. (The Ventures are currently scheduled to tour Japan for 3 months this year, starting on July 15, for the summer leg of the twice annual visits.)
In addition to their successful Japanese tours, The Ventures also composed over 30 songs specifically catered to the Japanese market and taste. A number of these songs became huge Japanese pop hits in the 1960s and 1970s (some featuring popular Japanese singers of the day). Several of these noteworthy songs include: Futarin-no-Ginza (Ginza Lights), Kyoto-no-Koi (Kyoto Doll), Kitaguni-no-Aoi-Sora (Hokkaido Skies), Ame-no-Midosuji (Strangers in Midosuji), and "Kyoto-Bojo" (Reflections in a Palace Lake). These songs and other Ventures' tunes still appeal to a wide range of Japanese music fans.
Since there were no language barriers to overcome, The Ventures' unique "teke-teke sound" (as it was called in Japanese) grabbed the heart of many Japanese young men and women. These young
fans in turn formed groups of their own, thus creating a huge boom of electric guitar sales in the country. The Ventures are still one the most popular American rock groups in Japan.
The Ventures significantly influenced the Japanese music scene and contributed to the promotion of friendly relations between the US and Japan in the process. The Ventures were presented with the Japanese Foreign Minister's Award in 2004, inducted into the American Rock and Roll Hall of Fame in 2008, and celebrated their 50th Anniversary of the birth of "The Ventures" in 2009.
The Decoration Ceremony for "The Ventures" will be held sometime in late June, 2010 in Seattle.